GLOBAL TIMES EXCLUSIVE INTERVIEW WITH VENTURE GURUKOOL & CHIRATAE VENTURES || 环球时报对Venture Gurukool和Chiratae Venture进行独家访谈

Mr. Mahendra Swarup, Founder, Venture Gurukool and Mr. Karan Mohla, Partner & Executive Director, Chiratae Ventures.
Mahendra Swarup先生是Venture Gurukool的创始人
Karan Mohla是Chiratae Ventures的执行董事与合伙人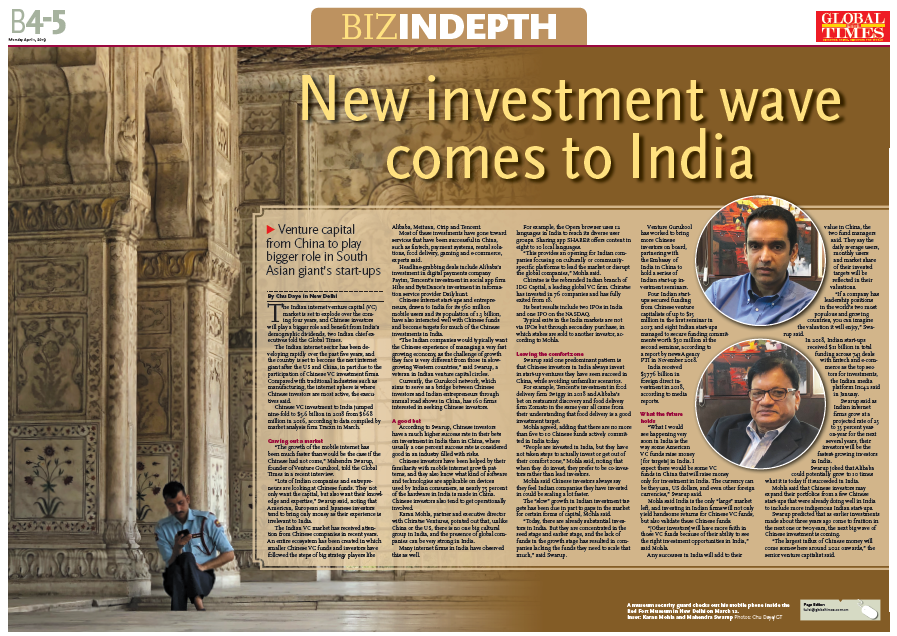 Interview by Mr. Chu Daye, Editor, Global Times
与褚大业先生会谈(环球时报编辑)
CLICK BELOW TO READ THE FULL ARTICLE.
点击下方,阅读全文
http://www.globaltimes.cn/content/1144114.shtml?fbclid=IwAR04UbESk0HLwGIGxnOfEe8CuUCgxT8sBajZqH7WnrDADDGF2QBM_zlqQ4o
EXCLUSIVE INTERACTION WITH PEOPLE'S DAILY DELEGATION
Facilitating developments towards India-China exchange and cooperation, Venture Gurukool along with Business World, hosted an exclusive meeting with Mr. Lyu Yansong, Vice Minister & Editor in Chief, People's daily. 
The People's daily is the largest and most influential newspaper in China with a daily circulation of over 3.2 million. It is the biggest newspaper group & official newspaper of the Chinese Communist Party.
Along with Mr. Yansong were his delegation of Senior Media Professionals, Mr.Wu Weizheng, Mr. Yuan Jirong, Mr.Su Chao, Ms. Wang Yuezhou and Ms. Wen Hongyan representing People's Daily.
The event focussed on establishing relations with the Chinese media groups and attract investments in print media other than digital content platforms. Mr. Annurag Batra, Chairman & Chief Editor, Business World, presented the welcome address. He expressed views on India's existent dependency on print media through the years. The large presence here is against the western trends of highly digitized news content implies that honesty and credibility of the newspaper are still very high in India.
Mr.Yansong quoted President Xi Jinping,"When India and China will speak and cooperate together, the world will listen." The population and huge market presence are similar in both countries. As per Mr. Yansong, media houses of India and China should promote this to strengthen their ties. The newspaper culture in Indian market is different from China's preference of mobile applications for digital news content.
The People's Daily app has over 250 Million downloads, their micro blog attracts 100 Million followers and their presence on WeChat accounts for about 20 Million users, making it the dominant media group of China.
The platform is open for international cooperation and tie-ups for content sharing in a more customized way and for better news articles.
Mr.Mahendra Swarup, Founder, Venture Gurukool highlighted the investments made into the Indian digital sector by the Chinese investors, lately. The digital media in India is still on its growth path while print still exists as the most preferred model for a lot of Indian languages. Mr.Swarup expressed his views on investments towards the much more credible print media. 
Mr.Manish Tewari, Former Minister of Information and Broadcasting & Member of Parliament, discussed China's vibrant media market and their breath-taking perspective. China's influence over other Asian countries to bring the onset of cutting-edge technological advances and innovation from western counterparts. Agreeing to the above statements, Mr. Alok Mehta, Padma Shri Awardee, Ex-President and Secretary General of Editors Guild of India, promoted interest towards ventures in digital media and the high scale scope of digitized content in the market.
Also, present at the event were prominent personalities of the Indian media industry such as Mr.Praveen Someshwar, CEO & Managing Director, Hindustan Times, Mr. Himanshu Gautam, Business Head, Amar Ujala, and Mr. Amit Goel, Vice Chairman, The Pioneer.
There is a lot for India to learn from China, thus, hosting such exclusive meet-ups with industry leaders results constructively for our aim to aid media tie-ups and developments between the two nations. Venture Gurukool constantly strives to promote Indo China innovation hub helping towards fostering a more holistic ecosystem. 
India startups chase Chinese investments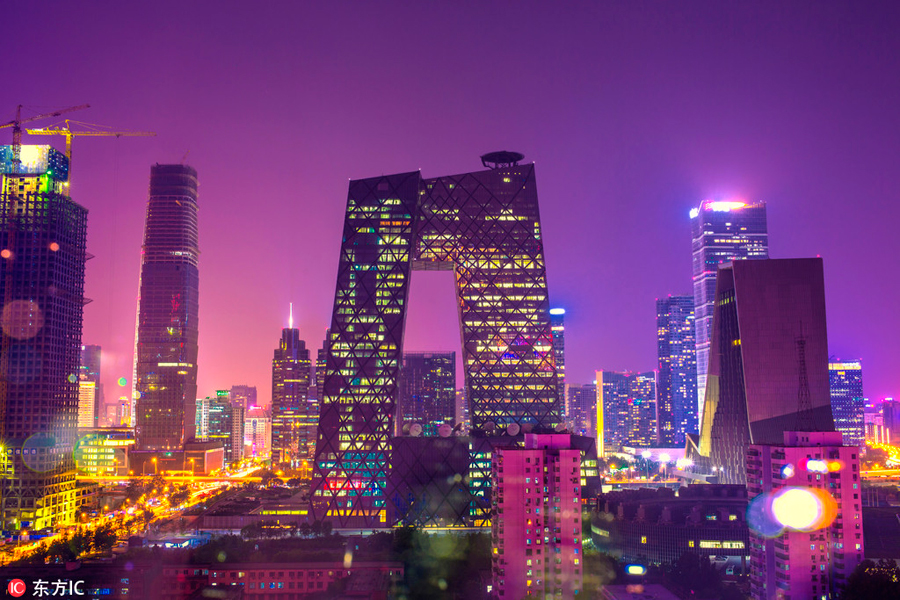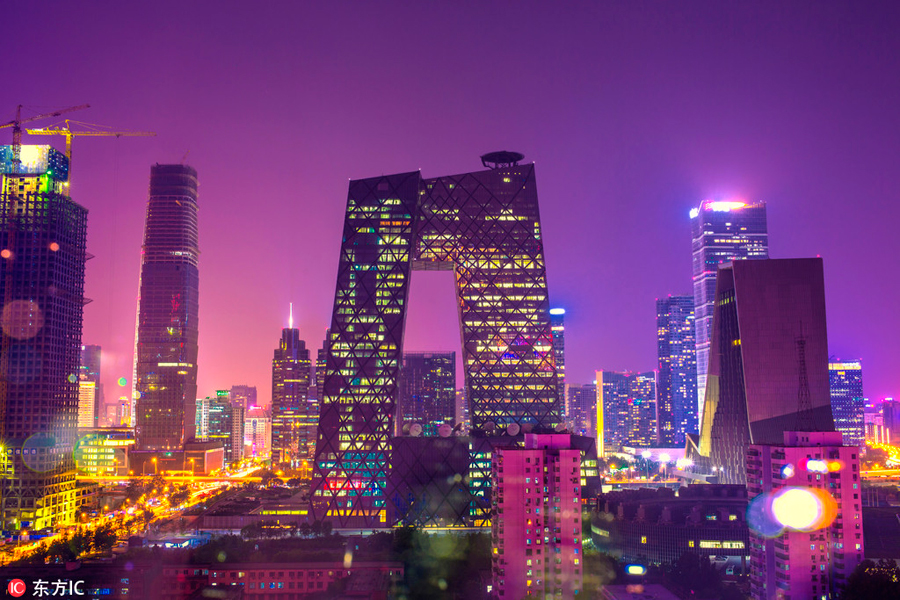 Beijing and Shanghai events witness spirited pitches for mainland backing
Some 20-odd Indian startups made a concerted pitch for $100 million in Chinese investments in Beijing on Monday and in Shanghai on Thursday.
The events intensified the push to leverage China's expertise in founding, nurturing and financially backing new enterprises that fulfill society's needs.
Around 200 Chinese strategic funds and angel investors interacted with executives of Indian startups, and evaluated investment opportunities, said Mahendra Swarup, leader of the visiting delegation and founder of Venture Gurukool, an early-stage investor and organizer of networking events for startups.
Around $30 million in investment deals will likely have been sewn up, he said.
At the Beijing event, Zheng Bin, CEO of the Mumbai, India branch of ICBC, said China's largest lender has set up a $200 million fund to back local startups.
Indian startups are engaged in fields where Chinese firms boast expertise: internet-based business, artificial intelligence, big data, robotics and automation, fintech, health, environment, e-learning, agri-tech, consumer goods and entertainment, including non-addictive gaming.
Indian startups that are wooing Chinese investors are at various stages of evolution, spanning inception to annual revenues of $5 million.
In discussions at the event, the Indian side emphasized that the time is right for bilateral startup-related collaboration. Chinese startups are seeking to expand overseas, and Chinese investors are eyeing stable and growing large markets that could generate healthy returns on investments.
Speakers and participants said India provides a near-perfect fit, in terms of proximity, massive scale, common cultural elements, the fast-evolving mobile internet sphere and the needs of the society.
Successful Chinese startups could replicate their technologies and grow rapidly, provided they adapt to specific local factors, conduct proper due diligence and avoid the temptation to transplant the Chinese business model in India.
Also, 100 percent foreign direct investment is allowed in India's emerging sectors, which makes the market more attractive than Europe and the United States for Chinese investors, they said.
Peifu Hsieh, partner at 01VC, a Shanghai-based venture capital firm that has invested in India, said, Indian startups are "good" with "strong teams" targeting huge markets.
"I'm very optimistic about the overall ecosystem. I feel the quality and caliber of Indian founders are solid and the market potential seems comparable to that of China."
Wang Zibing, founder of health startup Beijing Yingwei Technology, agreed.
"I have never been to India, so my knowledge of India is based on online content and movies. After meeting Indian entrepreneurs, I sense China and India share several common themes and have potential synergies. Indian startups are bubbling with ideas and their technologies seem cutting-edge. I've shortlisted an e-commerce app and an Indian traditional medicine (Ayurveda) app for investment."
Kiran Gali, founder and CEO of Number Mall, an Indian startup with an app that helps neighborhood grocers to automate their logistics, said: "Although India has financial capital, most local venture capital funds have Western parents whose focus is only on certain sectors. Chinese funds' expertise would prove useful, given that India is where China was 10 years back, in the context of startups.
"Unlike risk-averse Indian investors, their Chinese counterparts appear to sense that many Indian unicorns are in the making. That's why they don't want to miss out on investment opportunities."
Ravi of GoLive Games Studios concurred: "Gaming firms in China are plateauing because of local regulations. In India, gaming is a sunrise industry marked by tremendous growth potential and a friendlier regulatory environment. Hence, Chinese gaming firms are keen to expand to India."
Thaiseer, China market head of Steel Giant, a commodities trader that imports ores into China and exports products to the Middle East, said the firm is seeking to diversify and might fund a city-centric weather forecast app and a truck ride-sharing logistics app.
Chinese Firms Invested $2 Billion in Indian Start-ups Last Year: Report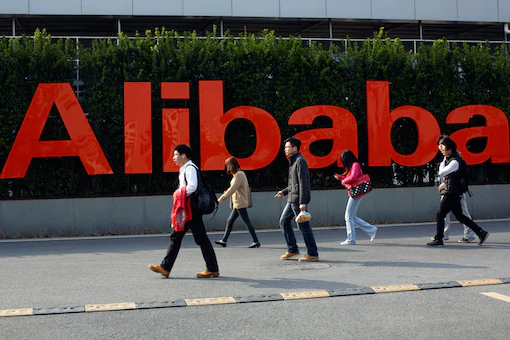 Beijing: Confidence of cash-rich Chinese investors in India is increasing as they have invested over USD 2 billion last year, according to a report released Tuesday by a top consultancy firm while a leading bank in China said it has set up a USD 200 million fund for investing in Indian MSMEs.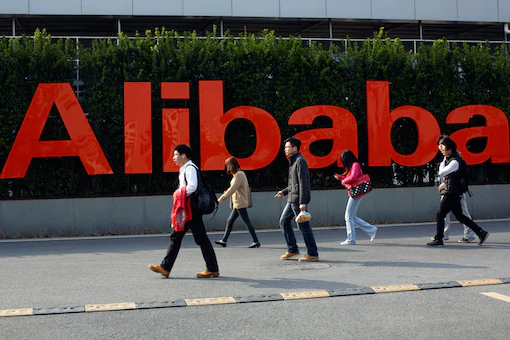 More than 350 Chinese mostly representing Chinese Venture Capital (VC) funds, angel investors participated in a day long pitching session and seminar organised by the Indian Embassy in partnership with the Start-up India Association (SIA) and Venture Gurukool here on Monday.
Forty-two Indian entrepreneurs representing 20 Indian start-ups took part in the event which was expected to fetch good investments for the Indian firms, Prashant Lokhande, Counsellor Economic and Commerce of the Indian Embassy who addressed the event said.
"India has always been an attractive investment destination for China, however from 2015 onwards, the country has witnessed significant increase in investments from Chinese firms, primarily in start-ups and technology platforms", a research report called 'India China: Start-ups & Beyond' compiled by KPMG was released at the seminar said.
"In 2017, Indian start-ups received Rs 129 billion (USD 2 billion) from China, a growth of 3x as compared to previous year. The surge in investments indicates an inclination of Chinese to shift or expand out of China to leverage the benefits of cheaper labour, new markets and less domestic vulnerability," the report said.
In terms of investments in the Indian start-ups, Chinese firms have predominantly focused on e-commerce, followed by transportation and fintech, with majority of the biggest deals in late-stage e-commerce sector, it said, adding that some of the major investors in the Indian startup ecosystem include Alibaba, Ctrip and Tencent.
The Chinese investments in Indian start-ups included Media net, snapdeal, paytm, makemytrip, Hyke, Practo, Dailyhunt, the report said.
Speaking at the seminar Zheng Bin, CEO of the Industrial and Commercial Bank of China (ICBC) India gave an overview of Indian start-up ecosystem and how to invest in them at the 2nd 'Start-up India' Investment Seminar organised by the Indian Embassy here.
"He also informed that the ICBC India has established a USD 200 million fund for investing in the promising Indian micro, small and medium enterprises (MSMEs) and ventures," the Indian Embassy said in a statement on Tuesday.
The ICBC, a top state-run Chinese bank which is the country's largest lender by market value, has opened its branch in Mumbai in 2011.
Four out of the 12 Indian firms which took part in the first start-up India investment seminar held here last year got funding from the Chinese VCs to the tune of USD 15 million, the press release said.
In the current round, 7-8 start-ups out of 20 participants may get commitment to the tune of USD 30 million, it said.
The event was planned to expose the Chinese VCs and investors to the promising Indian start-ups on one hand and help Indian start-ups to reach out to the huge Chinese investors community for receiving investment for growth of their companies, it said.
Addressing the event Acqino Vimal, Deputy Chief of Mission said Chinese investors should take part in the development process of India growth story through investing in Indian start-ups.
He said India's young demography, rapid economic growth and fast pace urbanisation and its challenges work as hotbed for growth of Indian entrepreneurs and start-up ecosystem, as well as provide them opportunity for offering unique, innovative, and affordable solutions for these challenges.
During the seminar, a report "India China: Start-ups & Beyond" by KPMG giving detailed account of Indian start-up ecosystem and why it is right place for making venture investments, was unveiled.
China's Largest Bank Sets Up $200-Million Fund For Indian Small Businesses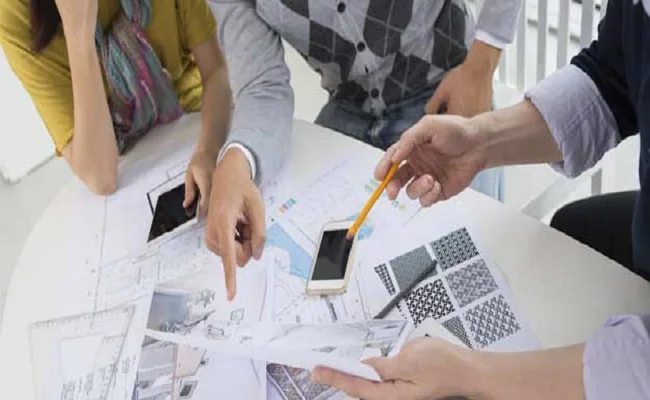 The ICBC, a top state-run Chinese bank which is the country's largest lender by market value, has opened its branch in Mumbai in 2011.